RiffShare
Launch https://surikov.github.io/riffshare/tools.html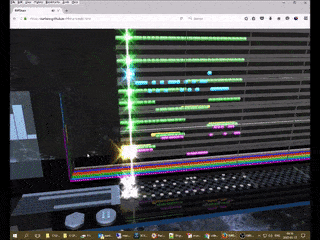 Music creation and collaboration platform. Create tune in 3D environment and share your work via Twitter, blogs, chats, e-mail etc.
RiffShare is the sketchpad for writing down a musical ideas. You can share your work with others, you can work in collaboration to create new masterpiece.
Workflow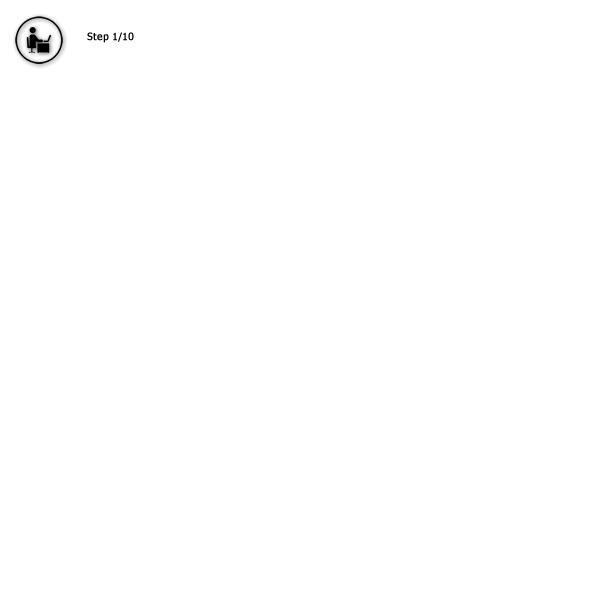 Tutorial
YouTube video
Features
Riffshare is pure HTML5 application.
an impressive but simple 3D UI
sampled instruments
it works on desktop and mobile browsers
no plugins, no install
import/export MIDI
Workflow
RiffShare has a simple and uncluttered interface.
open a Tools menu to clear song
select a colored track line to select instrument
click pianoroll to enter notes
click drumpad to enter beats
open a Tools page to copy a song URL
send URL via Twitter, chat, etc. or embed URL into blog post
Who is RiffShare for
for composers and arrangers
for teachers and students
for media musicians
Examples
URL store
Example: https://surikov.github.io/riffshare/parse.html?riff=78-30030600-a686a234-101211100a07060c0d10-0031012940444144c054c155e001-0050409400450404400850209400a50204400c50206400e5020840
All values are HEX.
Parts of URL
https://surikov.github.io/riffshare/parse.html - parser page
riff - GET variable name
78 - tempo
30030600 - 8 track volumes
a686a234 - 8 drum volumes
101211100a07060c0d10 - 10 equalizer volumes+10
0031012940444144c054 c155 e001 - drum data
c1 = 11000001 - 3 bits is order of 8/16 segment and 5 bits is drum order
55 = 01010101 - bitmask of drums
0050409400450404400850209400a50204400c5020640 0e5020840 - track data
0e - beat order
5 - track order
02 - length in 16th
08 - pitch
40 - slide+64
MIDI substitutions
Instruments
Distortion guitar
Acoustic guitar
Acoustic Guitar (nylon)
Acoustic Guitar (steel)
Electric Guitar (jazz)
Electric Guitar (clean)
Percussive Organ
Drawbar Organ
Percussive Organ
Rock Organ
Church Organ
Reed Organ
Accordion
Harmonica
Tango Accordion
Palm mute guitar
Bass guitar
Acoustic Bass
Electric Bass (finger)
Electric Bass (pick)
Fretless Bass
Slap Bass 1
Slap Bass 2
String Ensemble
Violin
Viola
Cello
Contrabass
Tremolo Strings
Pizzicato Strings
Orchestral Harp
Timpani
String Ensemble 1
String Ensemble 2
Synth Strings 1
Synth Strings 2
Choir Aahs
Voice Oohs
Synth Choir
Orchestra Hit
Trumpet
Trombone
Tuba
Muted Trumpet
French Horn
Brass Section
Synth Brass 1
Synth Brass 2
Soprano Sax
Alto Sax
Tenor Sax
Baritone Sax
Oboe
English Horn
Bassoon
Clarinet
Piccolo
Flute
Recorder
Pan Flute
Blown bottle
Shakuhachi
Whistle
Ocarina
Lead 1. (square)
Lead 2. (sawtooth)
Lead 3. (calliope)
Lead 4. (chiff)
Lead 5. (charang)
Lead 6. (voice)
Lead 7. (fifths)
Lead 8. (bass + lead)
Synth Bass
Synth Bass 1
Synth Bass 2
Acoustic Piano
Drums
Bass drum
Low Tom
Snare drum
Snare Drum 1
Snare Drum 2
Mid Tom
Mid Tom 2
Mid Tom 1
High Tom 2
High Tom 1
Closed Hi-hat
Closed Hi-hat
Pedal Hi-hat
Open Hi-hat
Splash Cymbal
Ride Cymbal
Base
Powered by Web Audio Font